ETA
....linking this post to
Nifty Thrifty Tuesdays
!!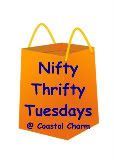 Please bear with me....I promise to post something crafty again soon but I really wanted to share my garage sale finds from this weekend.
Char
and I headed out bright and early (well, maybe not bright as it was grey and snowing!) this morning. Due to the weather we didn't find as many sales as we had hoped and decided to hit a couple of
thri
ft stores. The picture below is of my "goods" from the day.
Not pictured is the golf umbrella I got for Jake and two cast iron planters I picked up for my sister for $5 each. Or should I say my husband picked up as those suckers are heavy! I found the same planters on Canadian Tire website for $80 each new. This pic is from the website.
So, all in all a pretty successful shopping day. I did find the thrift stores much more expensive than typical garage sales but with higher prices also comes better selection. My favourite finds of the day...the iron planter holder, vintage bag (thanks Char!), and umbrella.
Well, thanks for visiting and checking out my junk! I hope you are having a good weekend and that it is not snowing where you are.
Item details:
From top to bottom and left to right: wrought iron planter holder ($3), 9 foot market umbrella on hardwood frame (we really needed one for our deck but I haven't want to spend $50+ on that!!) ($5), stand up paper holder thingies (plan to use for packs of

PTI

CS) ($1), doilies ($1) wooden hangers ($2), vintage carry on bag that Char spotted but kindly let me buy) ($6), potato masher ($.50), diner-style sugar shaker ($.50), cooling racks ($1), wicker basket with handles ($3), drum lamp shade (oh, I have big plans for this) ($6), vintage Pyrex bowl ($.50), Pampered Chef batter bowl ($.50) and 2000 straight pins with ivory heads ($4).